Real People, Big Savings
I came back to Ocean City for the first time in a few years. I loved the free stuff. It really helps since we have 4 kids.



- Jess from Allentown, PA
Free Events
S
M
T
W
T
F
S
4
6
11
13
14
20
21
25
27
Mouseover dates to see events
Click date to view details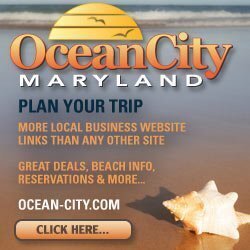 Free Stuff
Free Stuff:
Twining's Lobster Shanty - $15 Voucher



"A Funky Little Place" in the Marsh
Seafood Bar, Market & Grill
Regular Price: $15.00
Claim This Item For
FREE!
3 Easy Steps:
Search Hotel Availability & Get Best Rates
Select Hotel
Claim Your Free Items
4th Step... Relax and enjoy peace of mind knowing you booked the best deal possible.