Real People, Big Savings
Went to OC, used my free Hooters, Party Block and Greene Turtle vouchers. Just booked another trip for August. I love this free stuff.



- Jim from Columbia, MD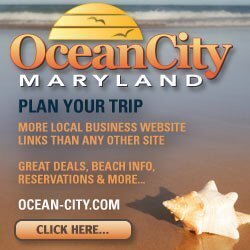 How It Works
Quick Start Guide
View free items available on the "Free Stuff" page
Search hotel availability & select hotel
Claim your Free items
Confirm reservation
Pick up vouchers upon check-in at the hotel
Use vouchers & enjoy the best deals in Ocean City!
Planning Your Trip
Plan your trip and book online in advance
Build your custom Ocean City vacation
Claim free items during the hotel reservation process
Receive free meals, amusements, golf, fishing, watersports, spas, shopping and much more
You can only get these Free deals on this site and our partner sites
You must book online to claim your Free items
Book early while the best deals are available
First come, first served
Booking Your Trip:
Start Your Reservation - Enter your dates of stay
- View availability and hotel rates
- Select your lodging
- Claim your free items
- Complete the reservation

Claiming Free Items - View list of Free vacation extras
- Claim the Free items you want to add to your reservation
- Other items are available at up to 50% off
- You will receive your vouchers upon check-in at the hotel

Using Vouchers
Pick up vouchers when checking into the hotel
Present voucher to the appropriate service staff at each business
Enjoy!
Relax and Save Big!
You can relax knowing that you are enjoying the best deals in Ocean City
Vouchers are available during each business' normal operating hours; no blackout dates or time
Vouchers are valid through the calendar year of purchase
Vouchers are non-refundable and have no cash value
No cash change will be given if full value is not redeemed
Visit OC again later with all the money you've saved!