Free Stuff
Free Stuff:
Fisher's Popcorn - $10 Restaurant Voucher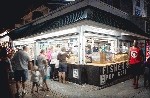 The Original Fisher's Popcorn store located at Talbot Street and the Boardwalk in Downtown Ocean City since 1937. We are a small family business that specializes in caramel popcorn and offers a wide variety of other flavors, including: Caramel, Caramel with Peanuts, Cinnamon Caramel, Butter flavored White Cheddar and Old Bay popcorn.
2022 Winters Hours: Now Open
Sunday: 9:30 am - 4:00 pm
Monday: 9:30 am - 3:00 pm
Tuesday - Thursday: Closed
Friday: 9:30 am - 3:00 pm
Saturday: 9:30 - 4:00 pm
1/11/2022
Regular Price: $10.00
Claim This Item For
FREE!
3 Easy Steps:
Search Hotel Availability & Get Best Rates
Select Hotel
Claim Your Free Items
4th Step... Relax and enjoy peace of mind knowing you booked the best deal possible.