Free Stuff
Free Stuff:
Hooters of West Ocean City - $10 Voucher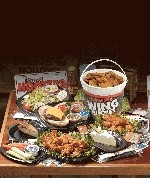 The Greatest Place On Earth!
Every Tuesday is Wingfest! Hooters hot, medium and mild chicken wings are on SALE! Put out the fire with Bud & Bud Light draft beer specials from 3-6 pm inside or out on the waterside deck bar.
1 Voucher per table, please. Not valid with any other offers.
Valid for Carry-Out Wednesday - Sunday, 12:00 pm - 7:00 pm
Call 410-213-1842 To Place Order
Regular Price: $10.00
$5.00
Claim This Item For
FREE!
3 Easy Steps:
Search Hotel Availability & Get Best Rates
Select Hotel
Claim Your Free Items
4th Step... Relax and enjoy peace of mind knowing you booked the best deal possible.