Free Stuff
Free Stuff:
Mackys Bayside Bar and Grill - $10 Restaurant Voucher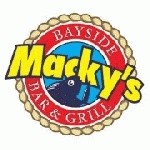 For over 20 years Macky's Bayside Bar and Grill we have established ourselves as a family friendly restaurant offering an excellent dining experience to generations. We are open for lunch and dinner daily and serve the freshest seafood, burgers, sandwiches and steaks.
After a great day at the beach, stop in for Happy Hour from 3-6pm and have a snack and drink at a discounted price.
We have also distinguished ourselves as one of Ocean City's premier night time destinations.
Spring Hours: Opening Day, April 29,2021
Regular Price: $10.00
Claim This Item For
FREE!
3 Easy Steps:
Search Hotel Availability & Get Best Rates
Select Hotel
Claim Your Free Items
4th Step... Relax and enjoy peace of mind knowing you booked the best deal possible.