Real People, Big Savings
I visited OC last year and didn't take advantage of these offers. I saw the front desk handing out vouchers to other guests and I knew I wouldn't miss the opportunity again. I just booked this year's trip and have free meals at 3 of my favorite restaurants. I can't wait.

- Brittany, Owings Mills MD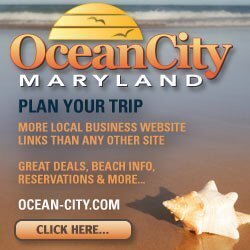 Free Stuff
Free Stuff:
Rippons Seafood - $10 Restaurant Voucher

Ocean City's Best Crabs

A local's favorite

An Ocean City gem as reported by the "Baltimore Sun."

Specializing in fresh local Maryland Steamed Crabs, Crabcakes, Softshell Crabs, Sandwiches and more.

Shop our Seafood Market, featuring the freshest crab, shrimp, lobster, clams, oysters, mussels and seasonal fish.


And don't leave without trying our famous Deviled Eggs!

Regular Price: $10.00
Claim This Item For
FREE!
3 Easy Steps:
Search Hotel Availability & Get Best Rates
Select Hotel
Claim Your Free Items
4th Step... Relax and enjoy peace of mind knowing you booked the best deal possible.